31 juillet 2010
6
31
/

07
/

juillet
/

2010
17:36
I have been wanting to write my first article for a while now but i did not know where or how to start.

So, what better opportunity than to start with the cake I made last week: my husband & I, first year wedding anniversary Cake.
The theme: New York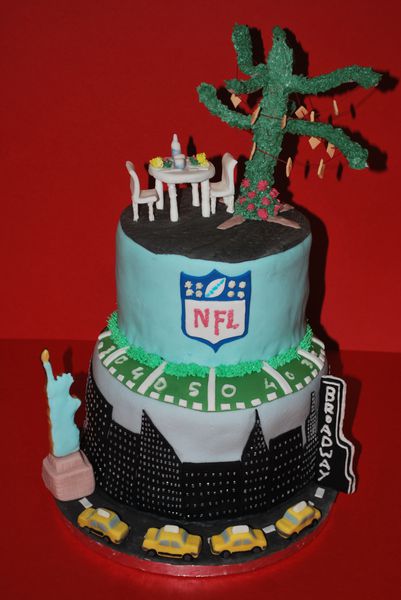 (we had the chance to go to New York for our honeymoon and we had the most amazing time!)
A little explanation: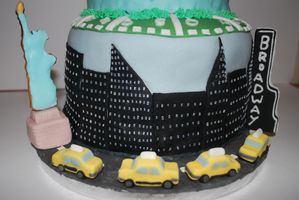 The bottom tier: Manahattan
For the record: there are over 750 little sugar squares for the windows, on the first nine buildings only.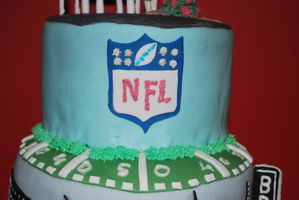 The second tier: The NFL (American Football)
Only few hours after arriving in New York, we went to see the last game of the pre-season.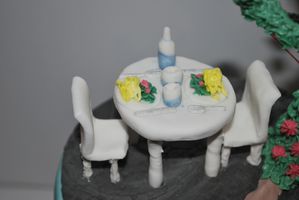 The third tier: The Tavern On The Green
The Tavern On The Green is a restaurant in Central Park: we had an amazing evening there.
As you can see, this cake is far from perfect: i have no experience or training in cake decorating & design, therefore, I am still in the learning process.
One thing that I have clearly not mastered yet: the fondant and covering a cake with the fondant.
Making fondant is quite a difficult thing to accomplish...and, for some reason, when the fondant does turn out ok, I am not able to get a nice, flat finish on the cake.
Only one solution: Practise, practise, practise...