1 octobre 2010
5
01
/

10
/

octobre
/

2010
22:01
Hello there,
Finally: it's THE WEEK END!!!!
I have been waiting for this all week!
But the week is far from being finished! I have a birthday cake to make tomorrow for a little girl turning 2.
The theme: Mr Men & Little Miss.
I'll post some pictures of the finished cake on sunday.
I also had to do a BEN 10 Birthday Cake for a 7 year-old boy this week.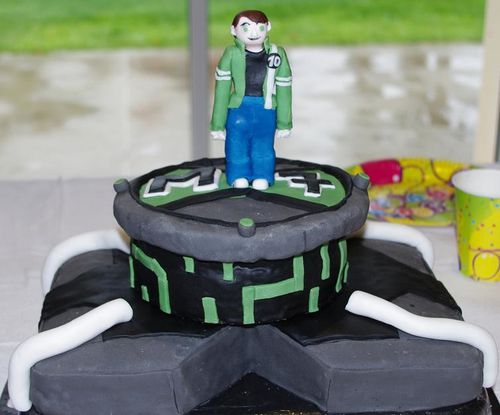 This little boy asked me for a BEN 10 Alien Force character on top, which is, in my opinion, harder to do.
So, my BEN 10 looks kinda strange really :(
He has a pretty BIG nose...really big hips...and a rather tight vest....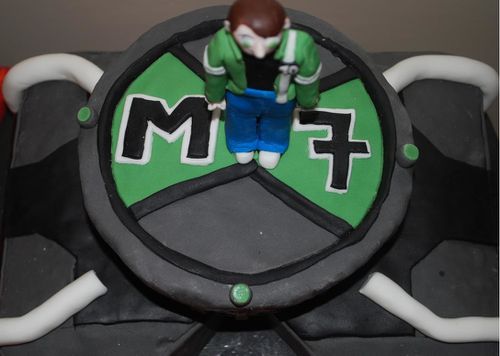 Despite all the fuck-ups, the kids loved it!
They all knew that it was BEN 10 on top of his OMNITRIX.
And they pretty much ate it all.
The base of the Omnitrix was made with a vanilla sponge filled with white chocolate ganache.
The rounded top of the Omnitrix was also made with two sponge cakes but this time, filled with white chocolate ganache, and dark chocolate ganache.
Once again: I struggled with the sugarpaste! I can't make it took look flat and smooth when put on the cake.
I am going to try a new technique tomorrow with the Mr Men & Little Miss cake. Hopefully, that one will work.
Another thing: despite BEN 10 being a cartoon character, like MARIO, I thought MARIO was way easier to make, or at least to make it look like MARIO.
BEN 10 looks a lot more realistic as MARIO is far more cartoony with more bold features. He is like a caricature.
Anyway, it's a learning process ;)