22 octobre 2010
5
22
/

10
/

octobre
/

2010
23:48
Hi there,
For one of my friends' birthday, I decided to make some cupcakes.
I had originally planned to make a massive three tiered cake but, so much has happened lately that i just did not have the time.
It's the advantage of baking cupcakes: it really takes a lot less time!
Despite her not being vegan, i decided to try some new vegan recipes.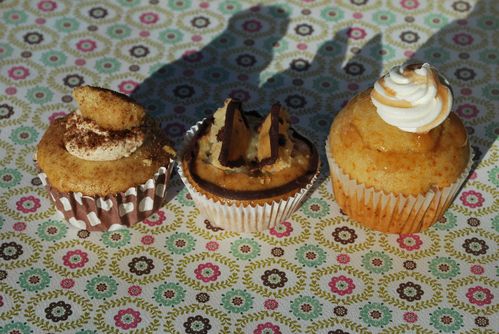 First, I decided to use one of her favourite fruit: Rhubarb.
As I personally do not really like Rhubard (I find the taste too odd), it was difficult to know what to expect taste wise and how to use it.
Rhubarb Cupcakes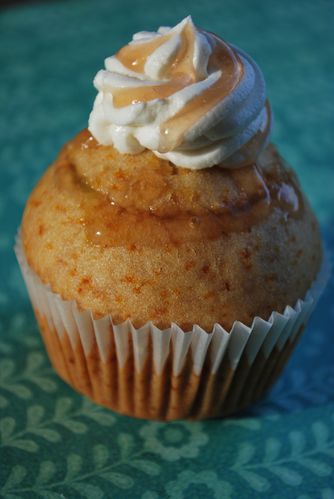 I made Agave Nectar & Vanilla Cupcakes. Then, I cut the tops off and filled the middle of the cupcakes with organic Rhubarb compote.
Then I put the tops back on and sealed them with Rhubarb jam.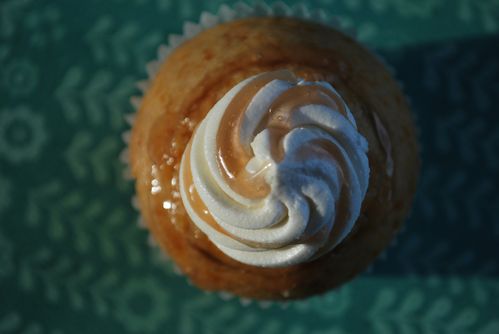 I finally toped them with a simple Vanilla buttercream and a drizzle of Rhubard Jam, which I had drained.
Then, I tried to make Speculoos Tiramisu Cupcakes.
One of my friends made a Tiramisu the other week and added Speculoos to the recipe.
i am not a fan of coffee at all and therefore, not a big fan of Tiramisu. But this time, I loved it.
The Speculoos really complemented the coffee.
Speculoos are little traditionnal Belgium Biscuits.
The only known brand still following the original recipe, suitable for VEGANs, is LOTUS.
Other brands tend to add powdered eggs, milk or honey to it.
Speculoos Tiramisu Cupcakes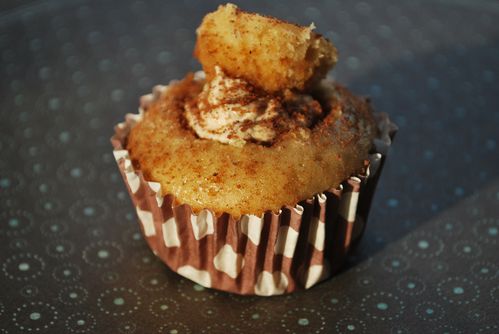 I made a batch of simple vanilla cupcakes, cup the tops off, added a tablespoon of coffee (instant coffee + water + speculoos). Then, I added a Speculoos & Vanilla buttercream and put the tops (dipped in the coffee mixture) back on.
Finally, I crushed some speculoos and mixed them with organic unsweetened cocoa powder and sprinkled a little of this mixture over each cupcake.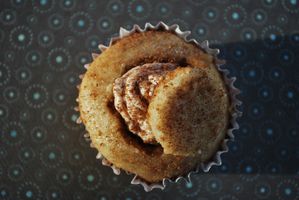 Verdict: They tasted great but nothing like a Tiramisu....!!!
Finally, I decided to use pears from my friend's garden and apples from my sister's garden.
I made Pear, Apple & Chocolate Chips Cupcakes.
Pear, Apple & Chocolate Chips Cupcakes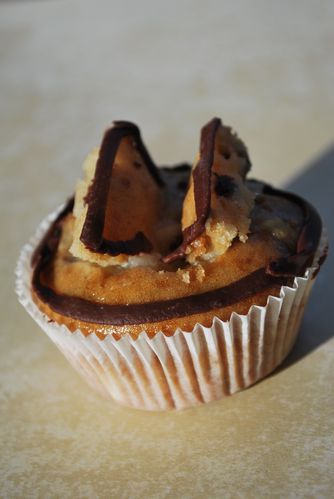 First, I made a batch of simple Vanilla cupcakes. I then added chopped pears, chopped apples and organic chocolate chips to the batter.
I then took the tops of and filled the middle of the cupcakes with a homemade compote. (I used the same pears and apples).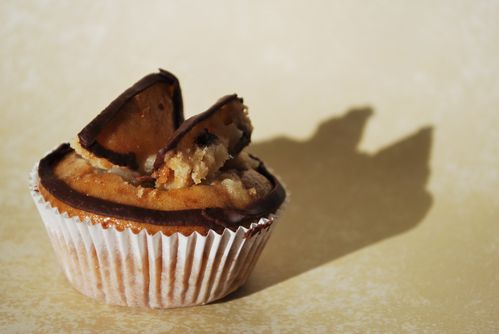 I chopped the tops in 2 and put them back on to create butterflies wings.
Finally, I melted the rest of the organic chocolate chips with some Soya Creamer and tried to decorate the cupcakes. After four attempts with swirls, I came up with the idea of highlighting the wings with the melted chocolate.
All in all, the cupcakes tasted good but I have to solve a little problem: I have swapped my basic flour for an organic one and since then, my cupcakes feel kind of "heavy": not light.
I hope it is just that i am using the wrong type of flour....only way to find out: MAKING MORE CUPCAKES!!!