25 septembre 2010
6
25
/

09
/

septembre
/

2010
22:38
As promised, I am now goignt o reveal my secret ingredient when it comes to Vegan Cupcakes: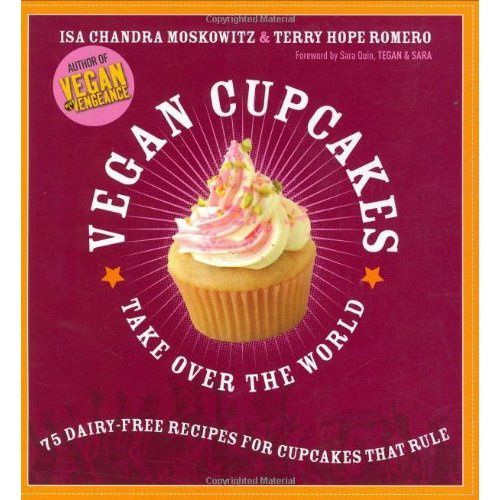 This book was written by Isa Chandra Moskowitz and Terry Hope Romero.
I bought this book this year while on holiday in England.
I bought this book mainly because of one of my co-workers.
We bring food at work for every reasons on earth: birthdays,...I just realised that we don't tend to have a reason but more of an excuse to bring cakes all the times ;)
Anyway, one of my co-workers being vegan, he was most of the time left starring at us while we were pigging out on all the cakes!
So, I decided to try something new.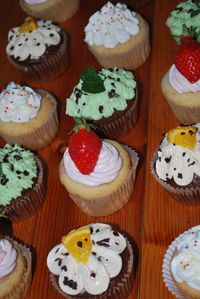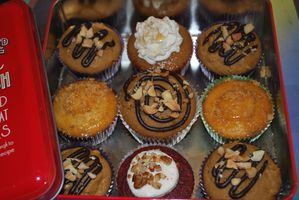 I have to say that, despite being vegetarian, I was really sceptic on making cakes without eggs, cow's milk,...but it was a revelation!
I was trying out lots of recipes before buying this book: I was trying to find the perfect cupcake batter.
I finally try the basic Vanilla Cupcake from this book and BANG! It tasted better than all the other ones: the texture was right, the flavour was right, the colour, the height...I mean, just perfect!
Bye Bye Martha Stewart!
Wanting to open a little Home Bakery here too, I am probably going to have to bake both kind of Cakes & Cupcakes: Vegan & Non-Vegan!
We are not the most open-minded kind of people when it comes to food...we are really big meat-eaters and we have a LOT of pre-conceived ideas about being Vegetarian or Vegan.
I have made quite a few recipes from this book and everytime, I gave some of the cupcakes to Non-Vegan people. And it is surprisingly always a winner.