20 décembre 2010
1
20
/

12
/

décembre
/

2010
20:21
I work SO hard on preparing this market that I was expecting a lot from it!
But, as always, it just did not work out as I expected.....
After important snow falls during the night leading to the day of the market, we could not get out with our car!
We tried to call so many times the organizer to see if the market was still happening and to let them know that we were going to be late. But NO answers!
When we finally got out, we went to the place where the Xmas market was meant to be but.......NOTHING.....there was nothing at all, so we went back home, thinking that it had been cancelled.
Few hours later, after learning that it might have been moved somewhere else, I finally managed to get hold of another phone number for the organizer.
They had moved the market but did not call anyone.
By the time I got there (after "fighting" on the phone to get a space), we were jammed in a corner at the entrance where everyone was stuck trying to get in or out and they did not really look at what we were showing and selling. And we could not put up anything to explain what the products were, .... Most people did not realise that they were cakes...
SO DISAPOINTING!!!
the positive thing: few people seemed really interested and took a business card.
Anyway, let's not dwell on it and let me show you my little creations:
First,
The Xmas Cake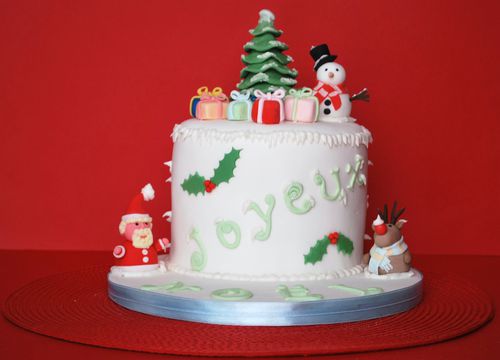 This was a simple vanilla cake filled with vanilla buttercream and covered with sugarpaste.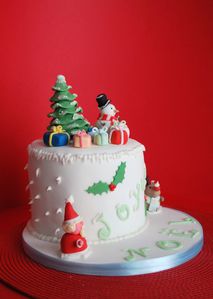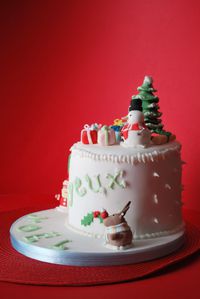 The idea behind the cake was: White Xmas. At first, I was going to make a plain white cake with a snow-covered tree and white royal icing designs.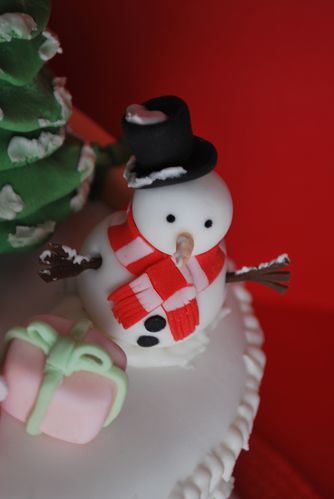 Then, the first night, I don't really know why, I just made a snowman, then a reindeer and finally Santa.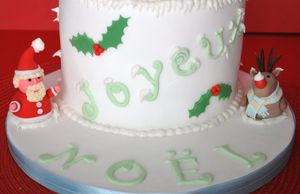 They looked really cute!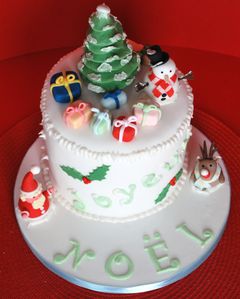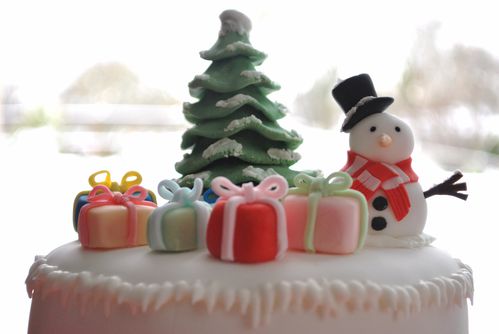 then I added the presies and I pipped some "snow" everywhere.
Next,
THE REINDEER CAKE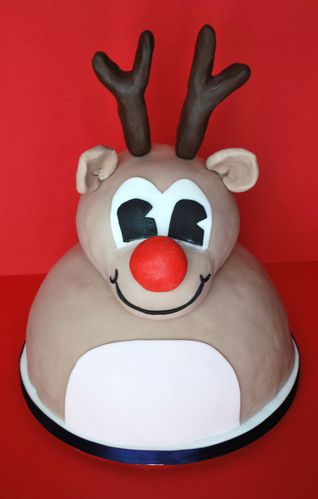 This was also a simple vanilla sponge cake filled with vanilla buttercream.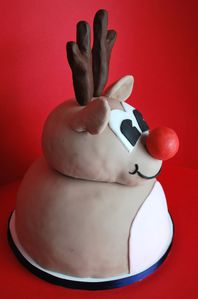 The head was made like a cake pop: I mixed cakes crumbs with vanilla buttercream, left it overnight in the fridge and covered it with sugarpaste.
The rest, his nose, his ears and his antlirs, were all made with sugarpaste.
Finally, a little picture of one of the chocolates bags with my new LOGO!
This week, I have to make few chocolate boxes and two Xmas cakes and a Birthday cake (CARS + TOY STORY)