6 février 2011
7
06
/

02
/

février
/

2011
12:59
Hello there,
After over a month of complicated and extremely busy time, I can finally concentrate on my cakes!
I had an order this week: three elements to include: a little boat, a dog and an island.
Barque: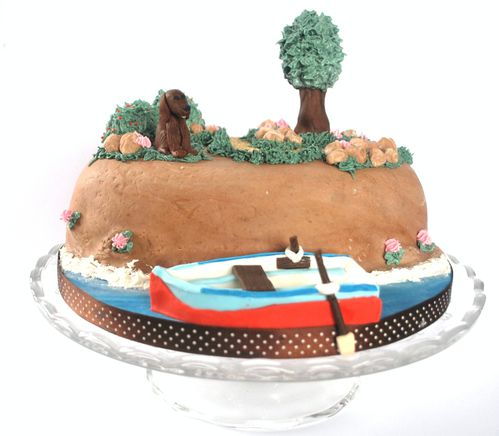 The main element had to be the boat.
The boat was made with sugarpaste and the dog and the base of the tree with cocoaform/sugarpaste.
The rest grass and leaves were made with vegan buttercream.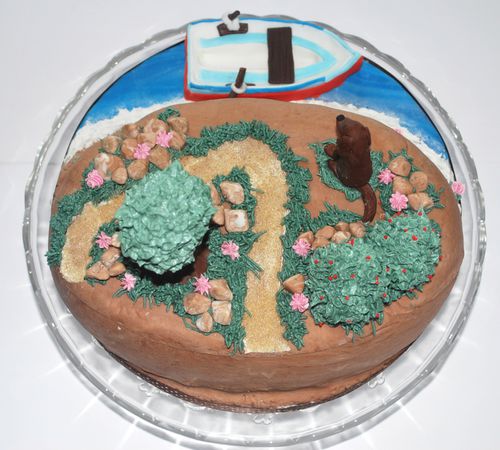 This cake was a bit of a challenge but not for the same reasons as usual. The difficult part was the inside of the cake itself.
It had to be a "charlotte poire-chocolat". This is made with chocolate mousse, pears and soacked biscuits.
Not really ideal as a structure! and it had to be vegan....
It was an exciting challenge.
I found a great little recipe for a Vegan Chocolate Mouse.
Vegan Chocolate Mousse Recipe:
2 x 12 ounces boxes silken firm tofu (2 x 340g)
10 oz finely chopped bittersweet chocolate (280 g)
2 tbsp agave (or maple) syrup
1 tsp vanilla extract
Melt the chocolate over a double boiler.
Drain the water from the tofu.
Place of the ingredients in a Mixer and mix until smooth and combined.
Refrigerate for at least an hour.
It really tasted great. I wasn't sure about this recipe to start with as it is based using TOFU, which can easily overpower the rest of the ingredients and taste slightly strange, even more for people not use to eat it.
I actually added more vanilla extract than indicated. More like a TBSP instead of a TSP.....and obviously by accident!
To make the whole cake: I took the biscuits, soaked them in Pear syrup, then i placed them at the bottom of the tin and on the sides. then, I added one layer of chocolate mousse, one layer of pears (oven baked) and one layer of soaked buiscuits and then the same again.
I left it in the fridge for few hours for it to set properly before covering it.