9 octobre 2010
6
09
/

10
/

octobre
/

2010
18:06
Last week was my little niece's birthday.
She turned 2! Already!

I really wanted to make something special for her.
While trying to find the perfect idea, I stumbled upon some of my son's books: Mr Men & Little Miss.
I also found a Mr Men & Little Miss toy so I went for that idea.
First: The idea: I wanted to tell a story, or stories: I wanted to have few characters interacting with each other.
Second: finding which characters to make???
There are so many! So i just chose the ones me & my husband loved the most as kids.
Mr BUMP, Miss NAUGHTY, Mr TICKLE, and so on...
Third: Spending a long time wondering what to put on top of the cake. I knew I wanted her name, and her age, and I wanted it to look simple and cute.
So, here is the result: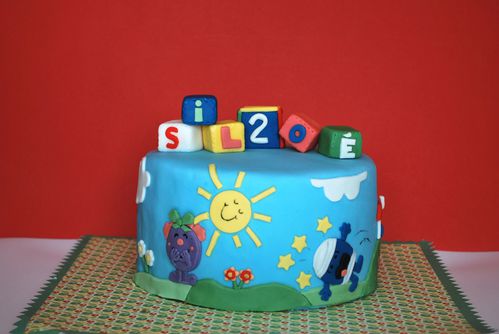 And here are the stories: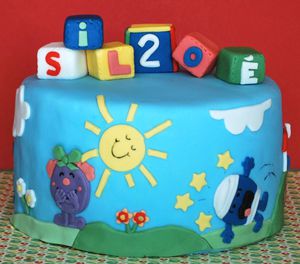 First story: Miss NAUGHTY laughs as Mr BUMP falls.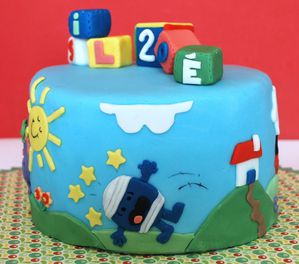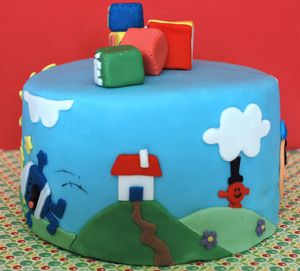 Second story: There is not really a story here....just Mr SMALL and his house on top of the valley.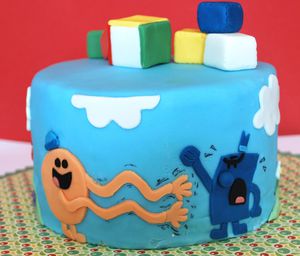 Third story: Mr TICKLE tickling Mr GRUMPY, who is clearly not finding it funny!
And finally, the top of the cake:

Simple little colourful cubes.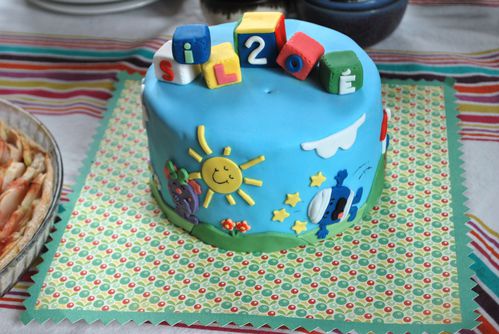 The inside of the cake was made out of 3 sponge cakes filled with white chocolate cream and covered with fresh strawberries.
The things my niece loved the most: the cubes! we had to hide them as that's all she wanted to eat